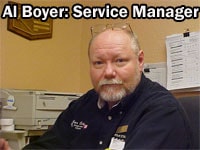 Click Here for our Service Specials!
Ensure Your Vehicle is in Tip-Top Shape with Chrysler, Dodge, Jeep and RAM Service Near Maryville, Atchison, Wathena and Cameron
Everyone wants a new Chrysler Town & Country, Jeep Wrangler, Dodge Grand Caravan, RAM 1500, Jeep Grand Cherokees that will treat them well - one that will give them zero to very few breakdowns/repairs. Perhaps you are even thinking about passing your new or used Chrysler, Dodge, Jeep and RAM on to someone close to you. Whatever your plans might be, the way to get there with your car intact is through taking proper care of it.  It really does make hitting those 100,000-, 200,000-, and even 300,000-mile marks very attainable.
How do you give your car the TLC is needs?
From the moment you take the keys, simply follow the manufacturer-recommended car service and maintenance schedule. That means scheduled check-ups and diagnostics tests with our team of specialists who are here for a wide range of auto repair and service needs in the St. Joseph, MO area. Scheduled car service, we might add, that is often covered by your warranty.
What does that include? Well, at Car City Chrysler Dodge Jeep RAM, we offer multi-point inspections, oil changes, brake repair, tire rotations, and more using quality Chrysler, Dodge, Jeep and RAM parts, all in St. Joseph, MO.
Want to schedule an appointment? Submit a form online, or call the Car City Chrysler Dodge Jeep RAM service department. We're always happy to help get you back on the road, feeling confident once more.