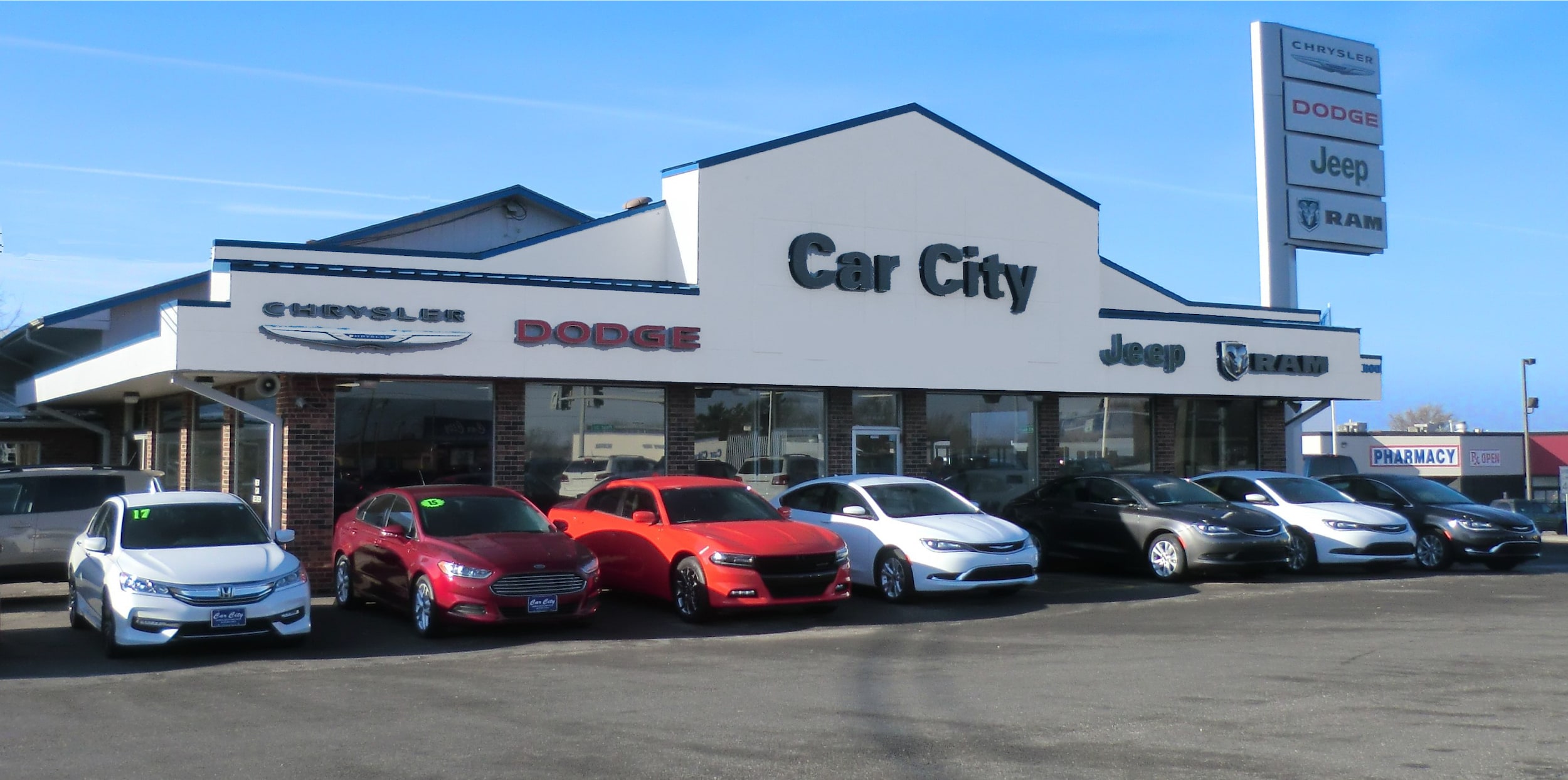 Car City Motor Co. Inc. History

Car City Motor Company was formed January 1, 1976. The company started out as a strictly used car operation with a secretary, one manager, two salesman and one light service mechanic.

On April 27, 1976, Car City was incorporated as Car City Motor Co., Inc., continuing the used car operation.

In January of 1982, Car City acquired the Chrysler, Plymouth, and Dodge franchise. After obtaining the Chrysler products franchise, Car City then became Car City Chrysler. In 1984, an additional location was purchased for our new truck and van sales, rental and collision repair departments.

In 2000, the Jeep line was added to the Chrysler and Dodge and Ram lines and six months later in May 2001, Hyundai was obtained.

In 2001, a new 7200 square foot facility was built to house the rental and body shop. We also added three additional inspection bays for the body shop and full parking for both customers and more display area for overflow inventory.

The property between McDonald's and Kmart was purchased in 2003. This was initially for additional display area. In 2005, the Car City Detail Center was opened, featuring full retail detailing services, showroom and automatic car wash.

2013 marks 37 years Car City Motor Co. has been serving St. Joseph and surrounding areas. We now have over 60 employees here to serve you!

Our sales and service are open six days a week to help serve you, and If you don't see what you are looking for or need to schedule a service appointment. If you would like discuss your options with our friendly sales and service staff, click on Directions for interactive driving directions and other contact information. We look forward to serving you.

We Asked Our Employees What They Value About Car City...
                                            Car City Core Values
                                                    Honesty and Trustworthy
Each employee can be trusted to always under all circumstances tell the truth
and nothing but the truth to customers and co-workers.  The fastest way to earn trust from someone is to give trust.  Someone has to go first.  So, let that be us.
                                                    Teamwork
Each one of us is committed to work together in full cooperation to accomplish our mutual goal of customer service.  Teamwork means noticing what needs to be done and pitching in to do it realizing that sometimes the task may not be our responsibility and that you may never get credit.
                                                    Customer First
Do what is right for the customer even if you think you don't have to.  All customers must be treated with courtesy at all times.  As employees we must take personal ownership of our customer's problems and concerns.  Always trust your customer as much as you hope they will trust you.
                                                    Respect
Respect has to do with not what we do but who we are.  All of our customers and co-workers must be treated with dignity and respect at all times, even if we disagree with one another, because it is who we are.
                                                     Fairness
We will always be impartial, free from discrimination, dishonesty and in  conformity of the rules and standards of the workplace.  We treat all sides of each situation the same showing no more favor to one side or the other.

Why Should Drivers in the Maryville MO, Atchison KS, Wathena KS and Cameron MO Areas Choose Car City Chrysler Dodge Jeep RAM?
Of course, there are many reasons, but perhaps the most important is the incredible service we offer. From taking our time to ensure our customers have the best car buying experience when choosing a new 2017-2018 Chrysler, Dodge, Jeep or RAM model, to making sure each of our clients obtain the car loan and Chrysler, Dodge, Jeep, RAM lease that he/she is most comfortable with, our commitment to you is unsurpassed.
From the latest selection of new Chrysler, Dodge, Jeep and RAM models, like the RAM 1500, to our incredible variety of used cars here in St Joseph, Car City Chrysler Dodge Jeep RAM likely has a model that will perfectly suit your personal style. And, of course, our friendly auto gurus are happily on hand to answer any questions you may have, as well as provide information about that model you're eyeing.
Car City Chrysler Dodge Jeep RAM provides much more than new and used vehicles, however. Current Chrysler, Dodge, Jeep and RAM owners love our onsite car service and maintenance center. Employing only highly trained technicians that use certified parts from the manufacturer, we make servicing your vehicle a simple, pleasant experience.
From your initial auto search online until you drive off of our lot in your new or pre-owned vehicle, Car City Chrysler Dodge Jeep RAM is excited to be your preferred auto partner. If you're interested in any of our incredible products or services, don't hesitate to contact us online or by phone, or simply swing by our convenient 3100 S 169 Highway (3500 S BELT HWY) St Joseph, Missouri location, today. We look forward to meeting you soon!